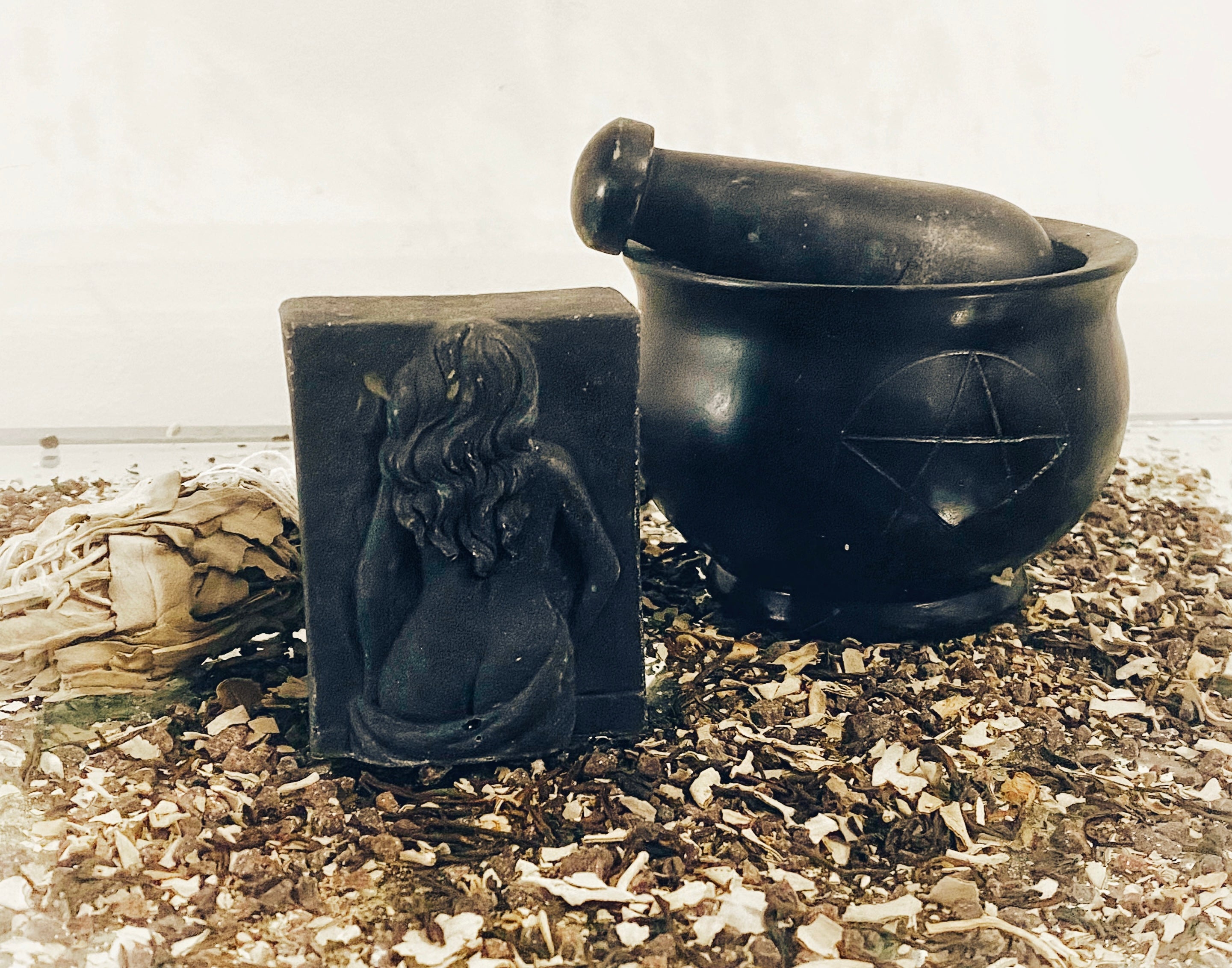 Moringa Scented Glycerin Bar Soap, Dark Goddess
The "Dark Goddess" bar soap is inspired by Kali, the epitome of the dark feminine which is one-half of the divine feminine. This soap is for the woman that looks fragile and feminine but utterly in her power. She is the dark goddess, who represents transformation and rebirth.
Indulge in luxury with this dark goddess glycerin bar soap! Bring the spa to your bathroom! This soap is scented with the relaxing and refreshing aroma of Moringa. It's also loaded with natural ingredients that are beneficial for skin like olive oil, jojoba oil, ginger oil, rosemary oil, and vitamin E. Shea butter provides a luxurious lather while rosemary herbs and activated charcoal help to cleanse and purify skin.
In addition, the Activated Charcoal helps to detoxify and purify your skin while the rosemary oil helps to soothe inflammation. Cardamom dried herbs add a touch of luxury and the shea butter provides intense hydration.
Feel beautiful and pampered from head to toe! This soap is perfect for all skin types, but especially dry or sensitive skin. The scents will leave you feeling zen while the activated charcoal helps to gently remove dirt and impurities. Your skin will feel soft, smooth, and hydrated after just one use.
 Additional Details 

👩‍🔬 TESTED - made by Warrior Goddess this glycerin bar soap is dermatologically tested & safe for all types of skin.

🌿 ORGANIC & NATURAL - The glycerin soap-making base is rich in organic moringa oil, anti-oxidant Mediterranean olive oil, & jojoba oil for deep cleansing, hydration, & a gentle lather.

📦 ECO-FRIENDLY & SKIN-LOVING - Our vegan-certified, cruelty-free soap-making supplies are packaged with 100% recyclable plastic & sustainable FSC-certified paper & contain NO palm oil, SLES, parabens, or other harsh ingredients!
Moringa Oil
Olive Oil
Jojoba Oil
Ginger Oil
Rosemary Oil
Vitamin E
Shea Butter
Rosemary Herbs
Moringa Herbs
Cardamom Dried Herbs
Activated Charcoal
Skin Safe Mica Power
Moringa Scented Glycerin Bar Soap, Dark Goddess
Shipping
Fast shipping
Luckily, the shipping situation has improved since last year, but delivery windows are still somewhat unpredictable—meaning the expected two-day shipping may actually turn into a 10-day shipping ordeal. As a result, we've introduced alternative shipping and delivery options among others so please contact us if you have special needs/requirements.
Shipping & Returns
Returns are accepted ​on this product within 30 days of receipt. Item must be returned unused, with tags, in its original packaging.
Get in touch
Although sometimes we are a busy making sure everyone is taken care of. We'll always make sure that a representative will reply when they're free. If you really need to speak to us, email us at heywarriorgoddess@gmail.com
About us
Reclaim Your Feminine Power
From yoga retreats to beauty and skincare rituals, there is something magical about reclaiming your femme power through transformational experiences and products.
Find Your Voice
Tap into your inner Warrior Goddess and free your feminine voice. Join us today and start roaring like a lioness.
Build Sisterhood
Celebrate the Divine Feminine and the power of women locking arms to make amazing things happen.